The Jimmy Benson Team
Meet
The Jimmy Benson Team
We are a full-service real estate team with Shaheen, Ruth, Martin, and Fonville Real Estate.
Jimmy Benson has been working successfully with both buyers and sellers for OVER 28 years all over the Greater Richmond area and the Tri-Cities. From a family of Richmond real estate brokers to operating his brokerage successfully for over 20 years, Jimmy offers experience, familiarity with all of RVA, and straightforward, honest advice that you can trust. Ricky Jeffreys is very skilled in negotiations and very flexible on his availability, so you will not miss out on getting into homes in a fast-paced seller's market. Rick is a UVA grad and lifelong entrepreneur, owning several businesses over the years. Ashley Clark is the team's Director of Operations and is responsible for overseeing our day-to-day activities and making sure that all our transactions are handled efficiently and effectively.
Offering straightforward honest advice and representation for our clients, we interpret the market for you allowing you to make smart decisions and achieve your goals. The Jimmy Benson Team offers an experience you can trust to help you get your home priced to SELL TODAY!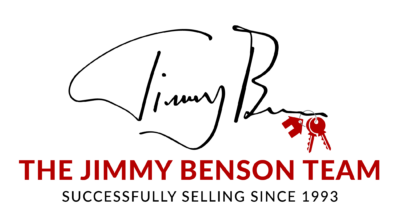 What Our Clients Say About
The Jimmy Benson Team
Very professional and easy to work with.
- Ravi for Jimmy Benson
I have a trust in Jimmy. I feel that Jimmy and Ashley have integrity.
- Kevin for Jimmy Benson
Jimmy came prepared. He does his homework. He is honest, hard-working and only answers questions he is confident of the answers. Otherwise he will get back to you with an answer. Also, Ashley Clark plays a key role as well. She does a great job.
- Heidi and Alfred for Jimmy Benson
We've known Jimmy for decades, but our personal relationship with him is really icing on the cake! He really knows the market and has always guided us with our best interest in mind. We trust him completely and he is a true professional-not to mention a fantastic person!
- Mary and Mason
The Jimmy Benson Team was wonderful when we needed someone to pack, prep & sell my mother's house. I reside out of town and was not able to be present but with their expertise & professionalism, the house was sold. I would highly recommend them for all of your moving and selling needs.
- Ann for Jimmy Benson
Jimmy is the best - true expert in his field and his team is also excellent.
- Grattan and Sydney
Looking to buy or sell with me? Submit your information to request an email, text, or call
Why Work with Us
Our Numbers
Total Closed Transaction
Volume In 2022*

Total Closed Transaction
Units In 2022*

Ranking Out Of 576 Firms
By Total Closed Dollar
Volume**

Average Sale Price
per Transaction in 2022*
*Data from CVRMLS, WAAR & REIN 2022
**Data from CVRMLS Twelve Months ending December 31, 2022