Ball Real Estate RVA
Anne and Todd Ball's objectives in every real estate conversation are to build relationships and provide solutions. This begins with your first meeting and often extends far beyond the settlement, whether it's your first home purchase or your last. They have been recognized by their brokers, Shaheen, Ruth, Martin, and Fonville, as Top Producers and were recipients of The Gold and Bronze Awards for Units and Volume and included among the Top 5 Teams in the SRMF Real Estate Family for 2019.
Anne and Todd are both lifelong residents of the Richmond area: Anne grew up in Varina and Todd in Glen Allen. Todd attended Virginia Commonwealth University and Anne attended Bridgewater College. Beginning their family in Mechanicsville, VA, Anne and Todd have been long-term residents of Hanover. Listening to their conversations about Richmond's varied neighborhoods and communities, you will quickly realize this knowledge has been obtained from experience. They have owned homes in Church Hill, Chesterfield, the West End, Northside, Lakeside, Glen Allen, and Hanover. This personal experience combined with a constant focus on your experience as a buyer or seller sets them apart. Their clients talk about it! Just take a look at the testimonials!!
If you're at a stage in life that has you contemplating your last move, Anne holds the highly valued Senior Real Estate Specialist (SRES) designation. Anne's network of service providers enables her to address virtually any service need your particular situation might require.
Service is the driver for other aspects of their lives as well. Todd and Anne have both taught leadership courses through their church, First Baptist of Richmond. Todd led the development of the FBC Urban Farm program that operates in Hanover with the goal of helping to address Richmond's food desert and Anne manages the kitchen for an annual FBC fundraiser, the Christmas Tea, hosting over 350 women from the Richmond area.
Let Anne's and Todd's service mindset work for you when it's time to buy or sell real estate. You won't be disappointed.
&nbsp
55 Years Combined Real Estate & Business Experience
Lifelong Residents of the Richmond Area
Residents of Hanover County Since 1988
Certified Seniors Real Estate Specialist
Seasoned in Experience, Fresh in Approach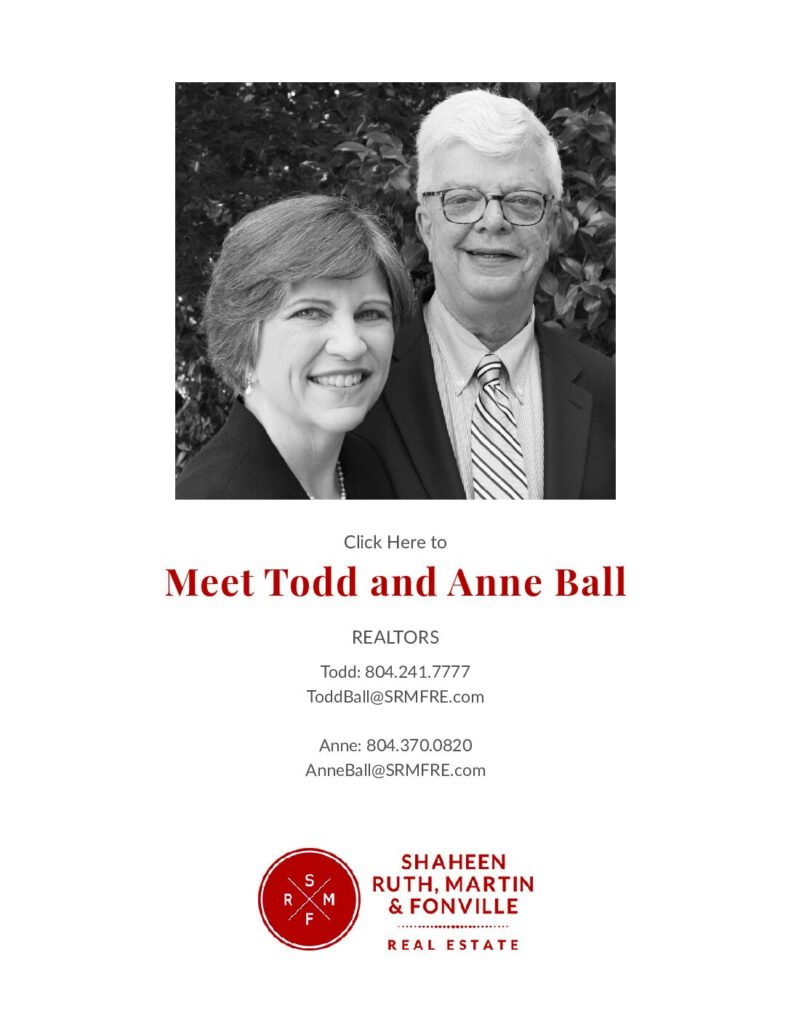 What Our Clients Say About
Ball Real Estate RVA
A Pleasure to Work With
Todd was very knowledgeable, patient, thorough, and proactive. He was an overall pleasure to deal with.
- Aaron P.
Our Favorite Homebuying Experience!
Todd and Anne were incredibly prepared when showing homes to us - every question was answered during the homebuying process! They have extensive knowledge of real estate available in the Greater Richmond area and were able to help us settle on a zip code. This was not our first home buying experience, but it was our first time working with a team approach to buying. This was our favorite experience, by far!
- Karen B.
I had no intention of selling my home until Anne and Todd educated me on the market in my neighborhood and the advantages of selling in a desired market. The process was seamless and they were a pleasure to work with. Not only did they sell my house at a sizable profit, but I received multiple offers over listing price in just 2 short weeks. Something I'm sure would not have happened without their coaching, support in staging my home and their marketing tools and plan. I will not only use them for the purchase of my next home, I would gladly refer them to any family or friend I have seeking to buy or sell.
- Sherri Flanigan
Hardworking Team
Todd and Anne Ball are hard working people of integrity. You couldn't find a better team!
- Lisa Ballance
Looking to buy or sell with me? Submit your information to request an email, text, or call
Why Work with Us
Our Numbers
Total Closed Transaction
Volume In 2021*

Total Closed Transaction
Units In 2021*

Ranking Out Of 619 Firms
By Total Closed Dollar
Volume**

Average Sale Price
per Transaction in 2021*
*Data from CVRMLS, WAAR & REIN 2021
**Data from CVRMLS Twelve Months ending January 2022