Kimberly Hitchens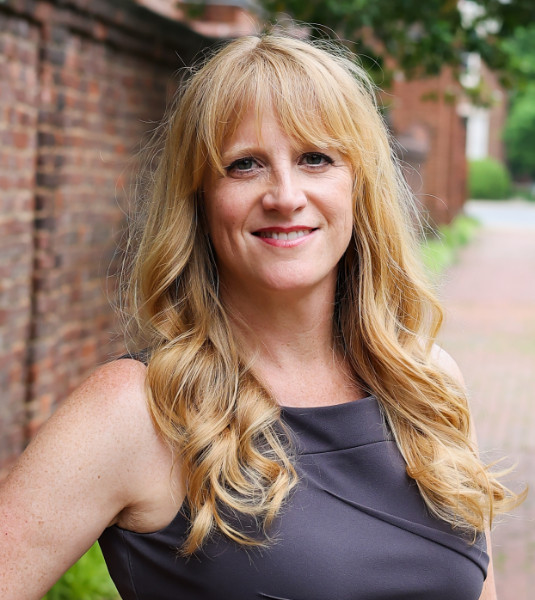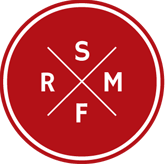 Kimberly Hitchens is a seasoned professional, who has spent 20+ years developing a reputation as a results-driven and service-oriented salesperson. After nearly eighteen years working in the insurance industry as co-owner of B&P Benefits Solutions, Kimberly earned the title of Residential REALTOR® in 2015. In 2016, Kimberly was awarded the brokerage's "Rookie of the Year" award in recognition of her sales production and overall contribution to the agency.
Kimberly earned the SRES® (Senior Real Estate Specialist) from the National Association of Realtors in 2017. Building on her advanced knowledge of Medicare and long term care insurance, she has positioned herself as an expert advisor to homebuyers and sellers 50 and older. Kimberly's dedication and professionalism enable her to be a patient and trusted source for her clients, and they can feel confident in her understanding of their unique needs when selling or buying a home.
Originally from Baltimore, MD, Kimberly graduated from University of Mary Washington (formerly Mary Washington College) in 1994 with a B.S. in Biology. After college, Kimberly continued her southern migration and landed in Richmond, VA where she began a love affair with the people and culture of The River City. She continues to be enamored with Richmond's vibrant restaurant scene, live music venues, and extra-special emphasis on the outdoor lifestyle. When she isn't working with her buyers or sellers, you'll find her at The National Theater enjoying one of her favorite bands; running, hiking and exploring the James River Trails; or relaxing at one of the many restaurants found in The Historic Fan District.
Licensed in the Commonwealth of Virginia.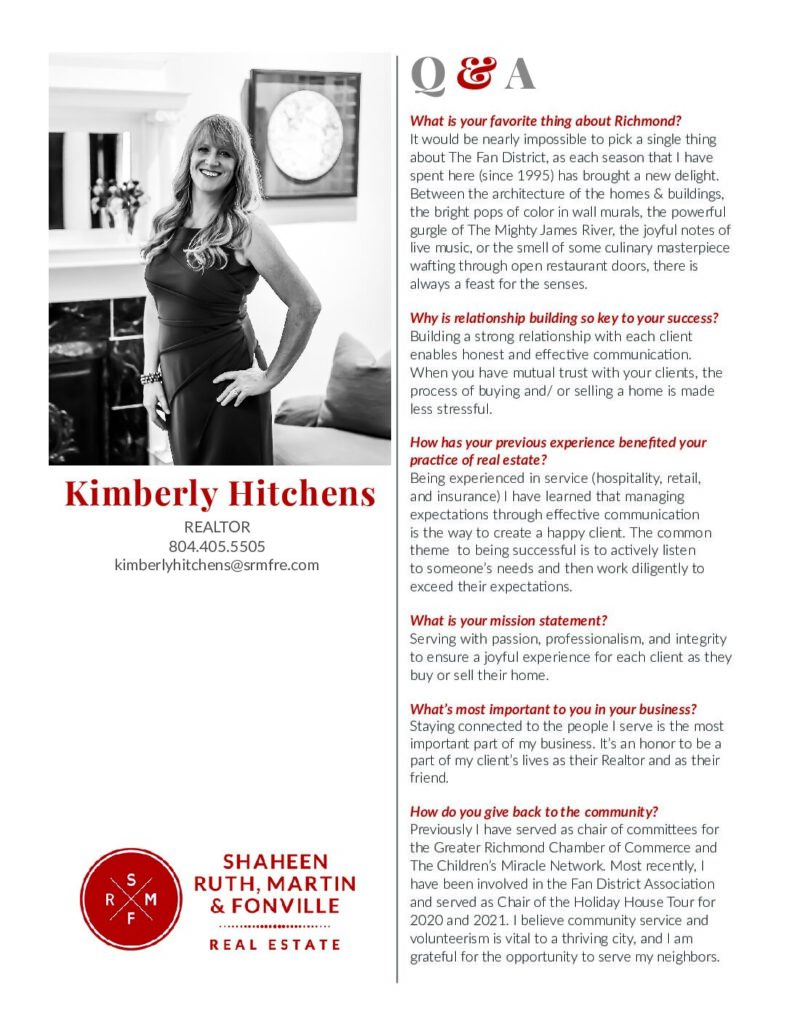 What Our Clients Say About
Kimberly Hitchens
Robert and Kimberly are extremely knowledgeable, friendly, and go above and beyond to help their clients. They work tirelessly to make the buying and selling process go as smooth as possible. I suggest them to all of my family and friends.
- Samantha
The Best Realtor!!
This was my first home. I had already been through some bumps just to get to the buying stage. Kimberly was referred to me by my loan officer and I'm so happy and grateful that I had the opportunity to meet not only an outstanding Realtor, but a genuinely great person at heart. She listened to what I needed and guided me on the journey to a home for me and my daughter. I will forever appreciate the knowledge that I received and can't wait to buy my next property with Kimberly as my agent! FIVE STARS!!!!
- Deanna Jones
Strong, Friendly and Fierce advocate
Have you ever thought "customer service" is now dead? Well there are still people like Kimberly Hitchens who live it and breathe it. I've worked closely with Kim on two fronts. The first was in her previous employment and I knew from my experience with her there that she was my "go-to" realtor when I needed to sell my house and her career path had changed. I was so right to have picked her. She went the extra mile to help with everything — paint colors, suggestions for improvements and money pits to avoid, staging for photos, who to call about underground oil tanks, etc. She was extremely consistent to follow through on promises, phone calls, meetings and always in touch whenever there were delays. It was a real blessing to have such a hard working, kind and sweet realtor going to bat for me. She hit it out of the ballpark with a quick sale for me —sorting out numerous offers and handling other agents who were not as communicative and thorough as she was. She'll be a strong , friendly but fierce advocate for you if you let her list your house.
- Carol G.
Such a Blessing!
Can't say enough good things about working with Kimberly. I had been under contract on a home for a very long time due to delays from the city and the builder, and Kimberly was extremely helpful in getting things moving as quickly as possible. Really felt like she was in my corner whenever an unexpected issue would arise, and could always count on her to get everything back on track. This was my first home buying experience, and although it was a long and bumpy road, Kimberly was such a blessing to have guiding me through it all. She was always available by phone or email to answer any and all my silly/naive questions, and would do so in such a positive way. Highly recommend using Kimberly for your next purchase, especially if you're a first time homebuyer!
- Carver Fisher
We went through a few realtors before finding the best in the business. Kimberly facilitated both the satisfactory sale of our old home as well as the purchase of our new one. She is friendly and easy to work with while being an advocate for you and a fighter in your corner. The housing process was much more enjoyable because of her. We are so happy with everything she did for us and are happy to come out with not only a beautiful home, but also a friend. You can't find anyone better for your realty needs.
- Derek S
A Joy To Work With
Kimberly assisted me with my purchase of a second home, in Petersburg, VA, in 2015. I found her to be knowledgeable, quick to answer questions, friendly, and in short, a joy to work with. The only hiccup I encountered during the entire process was the seller's agent did not have the keys for closing just hours before I was set to close on the property. Kimberly took the initiative and drove to Petersburg to pick them up, then raced back to Richmond for the closing. Problem solved! I would recommend her highly and without reservation.
- Stephen Wilson
Kimberly Hitchens helped our family to sell our family home of 48yrs in a sensitive and caring way. She directed me towards the issues that I needed to address in order to sell our home efficiently. She was always quick to respond to my questions and helpful with the right contractors to complete the needed work. I would and have already given her name to friends that are looking to have a truly impressive agent.
- Hang4u2
Looking to buy or sell with me? Submit your information to request an email, text, or call
Why Work with Us
Our Numbers
Total Closed Transaction
Volume In 2021*

Total Closed Transaction
Units In 2021*

Ranking Out Of 619 Firms
By Total Closed Dollar
Volume**

Average Sale Price
per Transaction in 2021*
*Data from CVRMLS, WAAR & REIN 2021
**Data from CVRMLS Twelve Months ending January 2022