Feras Almomani
Thanks for considering me for your Real Estate transaction. I would love to offer my experience and 100% effort to get you through this process as smoothly and successfully as possible. A little about me, I started back in 2013 with Real Estate investing. That field captured me, and I realized that buyers and sellers need someone who they can trust to guide them through this process. A few years later I decided to become a full-time REALTOR. Since then I have been helping clients with all their Real Estate needs, and I have created many friendships with my satisfied clients. I am committed to my clients. You need an honest, reliable, available REALTOR to help you, and I am your guy for this mission. I would like to share some details about my life too. I am originally from Jordan, so I speak Arabic and English languages. I had the honor of reaching the land of freedom in 2003, and since then I have been living the American Dream! I got my bachelor's degree from VCU a few years later and worked in Business management for years and lead big teams to many achievements. Here is some more info about my record: Awards:
Best local marketing efforts in 2015
Best Technology Implementation in 2016
Outstanding participation and support of River Title Agency 2019
Company service award: Group Training organizer 2019
Bronze Sales Award at SRMF 2019
Townebank Mortgage Top agent 2019
Thank again for visiting my page, and please call to take the next step:
804.274.9468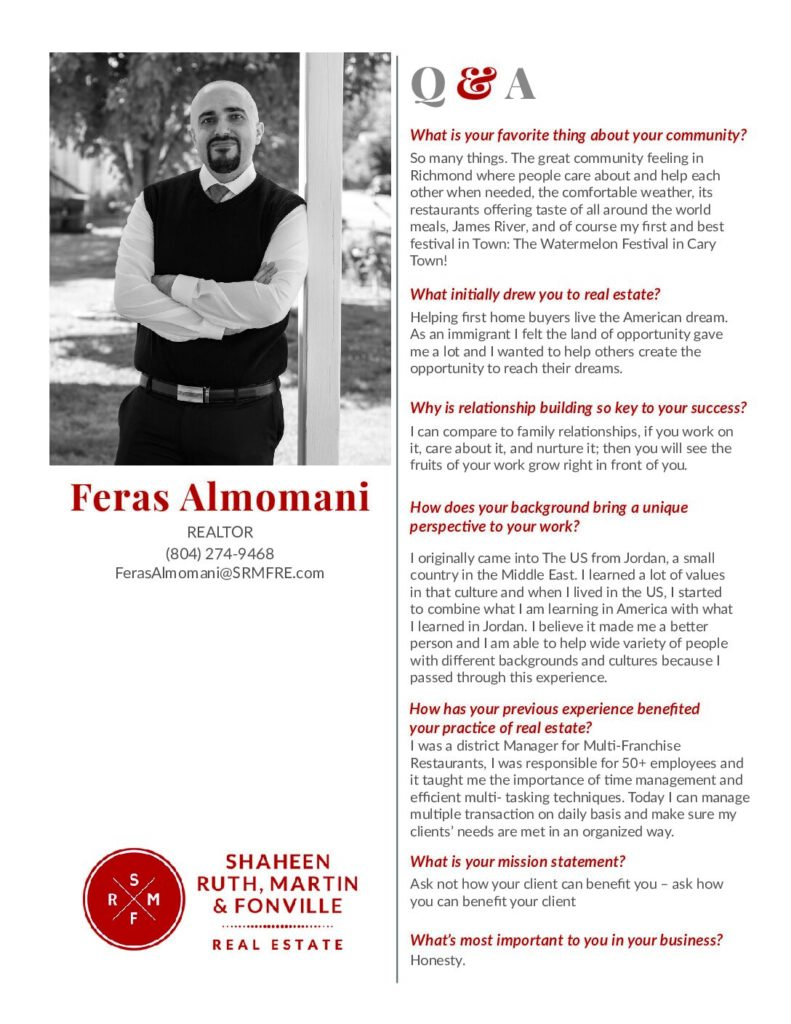 What Our Clients Say About
Feras Almomani
Awesome Experience
I had an awesome experience working with Feras as my realtor agent. He is very decent, helpful, knowledgable and honest. He showed more than five houses and explained to me the advantages and the disadvantages of each one of them until we finally bought the house of our dream.
- Emadosab
Amazing Agent
Feras is an amazing agent who takes the guesswork out of the real estate process. He is a true professional who goes out of his way to make sure that his clients are set up for success throughout the process. He will educate you where needed and guide you as you navigate the world of real estate. We were referred to Feras by friends and when giving us his information, they said "He will take care of you." They were so right. If you're looking for reassurance, this man is the real deal and you absolutely will not be disappointed.
- Happy Client
Highly Recommend
I was a first time home buyer looking for an agent and Feras was recommended to me. I am so glad because he was great to work with! Feras was very professional, communicative, and on top of things. He also took the time to make sure I understood what I needed to make decisions during the buying process. Feras really helped to make this a stress free experience. Looking forward to working with him again on any future home purchases!!
- Emily P.
Feras went above and beyond with his work
Our family chose to go with new construction as opposed to move-in ready home. This decision involved more intimidating steps like the design center, construction process, etc. However thanks to our realtor, Feras, he was able to make the process very easy and straight forward. He was well organized and he went above and beyond with his work by sending reminders for important deadlines, following up with everything regarding the house for the whole 6 month construction time, and by looking for the best option for our family. I would definitely recommend Feras, he is very professional and has a lot of knowledge and insight into options for home-buyers and makes sure that his clients understand every step of the process
- Feras went above and beyond with his work
Highly Recommended
Wow!! Feras blew me away with the amount of time and effort he put into making sure I understood the entire process of purchasing first home. He is highly recommended.
- Happy Client
Feras Get Things Done
Cannot say enough positive things about FERAS ALMOMANI (Realtor Shaheen, Ruth, Martin & Fonville real estate). He is professional, an awesome friend, and gets things done. Buying a home can be tricky and he knows how to tie the loose ends of the most hectic of situations! He found the perfect home for me and I would recommend him to anyone looking for exemplary service and a positive, professional home buying experience. We are absolutely impressed and thrilled!
- H. Shehadeh
Asset to the Business
Feras has been tremendous through the whole process from searching to closing the house and, definitely, he is a great asset to the real estate business. Thank you.
- C. Hahed
Absolutely Amazing
Absolutely amazing. Mr. Almomani is the best realtor in Richmond...very knowledgeable. Walked my husband and I threw the whole process. He was very patient with us helping us find our perfect home. We couldn't have done this without his help.
- T. Guzman
Certainly Recommend
I've worked with Feras for a number of years with different rental and investment properties. He is super helpful, knowledgeable, and communicative. He always goes above and beyond- would certainly recommend!
- Charles Armistead
He loves what he's doing!
I really loved working with Feras his a good guy very helpful and he loves what his doing .he is so patient very helpful he does answer all my questions even he keep asking if I do have more questions for him I will highly recommend him to all my friends who start thinking about buying their first home . Finally I would like to say thank you Feras for all you did with to get what we were looking for thank you so much.
- Zuser20141222172017866
Looking to buy or sell with me? Submit your information to request an email, text, or call
Why Work with Us
Our Numbers
Total Closed Transaction
Volume In 2021*

Total Closed Transaction
Units In 2021*

Ranking Out Of 619 Firms
By Total Closed Dollar
Volume**

Average Sale Price
per Transaction in 2021*
*Data from CVRMLS, WAAR & REIN 2021
**Data from CVRMLS Twelve Months ending January 2022