Bill LaFratta
Bill LaFratta is a seasoned Realtor selling in the Richmond Metropolitan area for over 25 years and has been a leader in his field. He has completed over 700 real estate transactions and is very experienced in resales, new homes, investment properties, building lots & other real estate opportunities. He offers outstanding customer service, a wealth of real estate knowledge, and a firm understanding of our real estate marketplace. Bill was born and raised in the city of Richmond, attended Benedictine High School, and holds a degree in Marketing from Virginia Tech. He is now residing in the west end of Henrico County with his 3 boys, ages 12, 16, and 19. During his free time, Bill enjoys running, hiking, and almost anything outdoors.
Awards
Outstanding Production
Multi-Million Dollar Producer
Top Units Sold, Top Volume Sold
Quarterly Sales Leader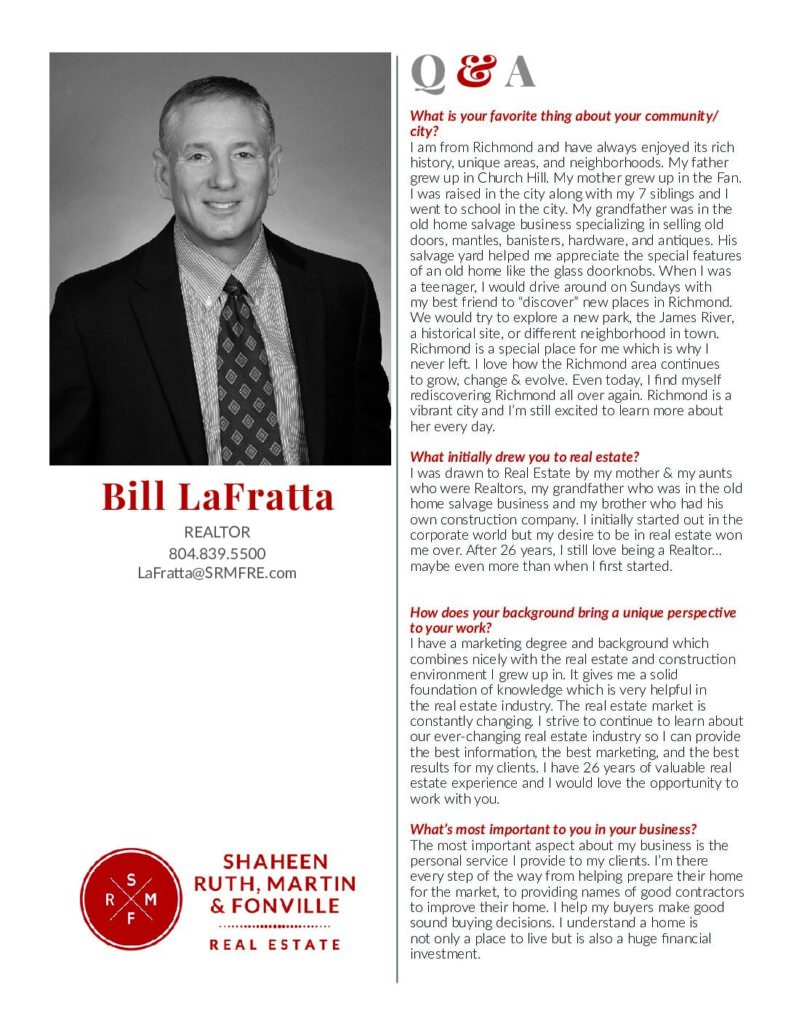 What Our Clients Say About
Bill LaFratta
He worked hard for me and is very detailed. Bill did homework that helped with the bank appraisal.
- Diane
Bill was so patient. We saw so many houses and he didn't let us stop until we found the perfect fit. He's attentive and follows through with all the home buying steps.
- Susan
Highly Recommend
Bill was absolutely stellar throughout our whole 8-9 month process of finding/looking for/buying our first home. He was right there during every step to answer any questions and to support us. He still, even after we've moved in, is helping us adjust to being 1st time homeowners. He's very kind, knowledgeable, and resourceful. We will absolutely use him in the future for any real estate-related needs and/or recommend him to friends or family.
- Aric and Anna
Always Patient
Bill was referred to us by a friend 8+ years ago. He has stayed with us as we vacillated with this last purchase (our second with him). He was patient with us, never made us feel that we were wasting his time. Our daughter also bought and sold a house through Bill. He treated her very well even though she took time deciding what to do.
- Joseph and Mary
Knowledgeable and Helpful
Bill is patient, knowledgeable, and helpful. We never felt rushed or pressured to put in an offer. Bill was always available, and always knew how to answer our questions. He is a treasure!
- Kevin and Lucy
Always Available
Our agent, Bill LaFratta, was working on our sales both day and night. He was always available when needed and if we had questions, he always had or found answers.
- Alfredo P.
Always Helpful
I have known Mr. LaFratta for awhile. I drive a school bus for Henrico County and met him through his son riding my bus. I am now retired. Mr. LaFratta is a very nice man and was very helpful through our process.
- F. True
Valued Our Best Interests
Bill knew our situation and worked within our time frame. He was never pushy. We always felt that he valued what was best for us over any money he was going to make.
- L. Ross
Excellent Realtor
Bill LaFratta has been an excellent realtor for us. This deal wasn't easy, and he got us good results. Same on the selling side.
- J. Ross
A True Go Getter
Bill was a true "go getter." He would show us any property at any time. He answered all of our questions and was very patient. We could count on him always, and in the end we got the perfect condo for my brother. Thanks, Bill!
- The Arlines
Looking to buy or sell with me? Submit your information to request an email, text, or call
Why Work with Us
Our Numbers
Total Closed Transaction
Volume In 2021*

Total Closed Transaction
Units In 2021*

Ranking Out Of 619 Firms
By Total Closed Dollar
Volume**

Average Sale Price
per Transaction in 2021*
*Data from CVRMLS, WAAR & REIN 2021
**Data from CVRMLS Twelve Months ending January 2022