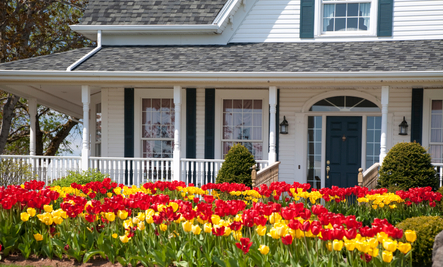 It's time to get ready for the Spring Market!
Although we are in the Holiday season, Spring is right around the corner. The spring market is known for being one of the busiest times in the Real Estate market. It's never too early to prepare yourself for the market if you are planning on on buying/selling in the next couple of months. Tackling home projects during the winter months can increase your chance of having a quicker and easier sale come Spring.
Below are a couple of tips you can do to prepare yourself for the Spring Market!

Use this time to interview Real Estate Agents! The absolute best thing you can do is find a great agent to represent you. A good listing agent has a great marketing plan, experience and deep knowledge of the area and market. All of our agents at Shaheen, Ruth, Martin & Fonville can give you all of this and more. Call any of us today and schedule a consultation!

Clear the clutter. After the chaos of the holiday season has settled, use your downtime to start cleaning out the clutter of your home. Buyers want to tour your home and visualize living in it and making it their own, so the best way to do that is create a blank state. Here are a few links to help you get started on decluttering you home:
A Guide To Decluttering To Sell Your Home
How To Keep Three Key Areas in Your Home Organized
Declutter Your Home- DIY Staging Tips

Make small repairs and improvements. We understand if you don't have the time or resources to make extensive renovations, but there are minor repairs you can make that leave your home looking fresher than before. Some minor improvements can include:
Freshening up paint on the outside and inside.
Replacing all light bulbs and adding some more in your home to brighten it up.
Bathrooms and kitchens are sometimes focal points in homes, and buyers will pay attention if they have been updated. Re-grouting the tile, caulking the shower or bathtub, or replacing a faucet can give your bathroom/kitchen a fresher and updated look.
Spruce up your curb appeal! Make extra effort to rake leaves, weed the garden and mow the lawn. It is always good to clean your outdoor furniture and maybe add some plants to make the front of your home stand out!
Repair anything you have been putting off-seal any cracks, fix a leaky roof and clean your gutters.

Assess your financial situation an
d consider any financial obstacles. Make sure you stay in good standing financially and made any improvements for to ensure financial stability after the sale.

Be an early bird! If you are taking the time to prepare for the Spring Market now, you can get your home on the market faster and easier, and be the first to the market before it is flooded with competition!
If you need any help navigating the sale of your home, the Shaheen, Ruth, Martin & Fonville team are here to help. Get in touch with them at 804.288.2100 or email them at info(at)srmfre(dotted)com for your real estate needs.