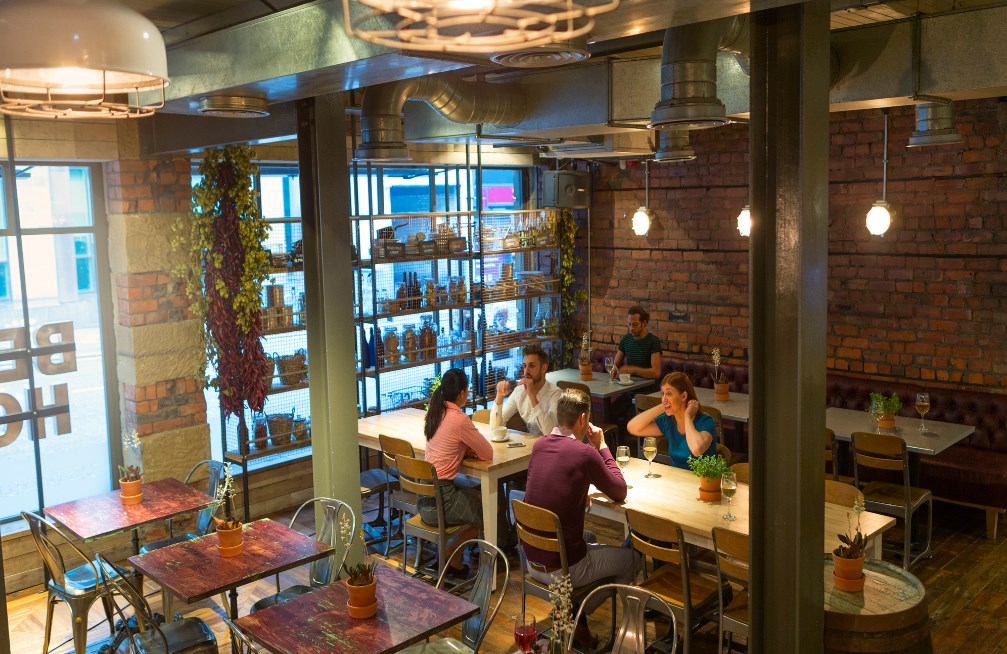 Looking for some of the best dining destinations in Richmond, VA? We've got you covered. Here's a list of some of the top restaurants you should definitely checkout:
Lemaire
101 West Franklin Street,
Richmond, VA
804.649.4629
lemairerestaurant.com
Located in the iconic Jefferson Hotel, Lemaire is a New American restaurant that offers the rich Southern flavors of Richmond's food culture. Their dishes are made from top-quality Virginia-grown ingredients, and are available through their customizable menu structure, giving guests a different culinary experience every time.
Lemaire also features an extensive cocktail list featuring classic libations infused with a modern twist, all made with fresh, handcrafted ingredients. In addition, they have a wine list with over 200 offerings, consisting of the finest old world and new world flavors.
Kuba-Kuba
1601 Park Avenue
Richmond, VA
804.355.8817
www.kubakuba.info
One of Richmond's most beloved restaurants, Kuba-Kuba offers authentic home-style Cuban dishes perfect for breakfast, lunch, or dinner. Located right in the heart of Richmond's The Fan district, the restaurant features a nice, welcoming ambiance, which is highlighted by unique bodega-style interiors.
If you're craving for quality comfort food, this is the place to be. All of their dishes are excellent, but if you were to try just a few, we recommend the Huevos California, the Bar-B-Quaban, and the Kubanaso sandwich. Make sure you also order the Kuban coffee, which is excellent whether hot or iced.
Mama J's Kitchen
415 N. 1st Street,
Richmond, VA
804.225.7449
mamajskitchen.com
Located in Historic Jackson Ward, Mama J's is a family-owned and operated restaurant offering masterfully crafted soul food dishes. The restaurant has earned accolades from several renowned websites and publications, and was included in Thrillist.com's "50 Restaurants to Try Before You Die," and Richmond Magazine's "25 Best Restaurants in Richmond."
Diners can enjoy sinking their teeth into Mama J's diverse variety of a la carte traditional dishes, including favorites such as succulent fried catfish, juicy fried chicken, and savory blue crab cakes. All of their dishes are served alongside an array of delicious complementary side dishes, which include candied yams, collard greens, and mac n' cheese, and more.
Tarrant's Cafe
1 West Broad Street,
Richmond, VA
804.225.0035
tarrantscaferva.com
Tarrant's Café is a well-known downtown spot, popular for their delicious steaks, seafood, sandwiches, pizzas, and more. The place features a lively atmosphere and a pleasant ambiance, which serves as a perfect backdrop for an unforgettable dining experience.
Their menu features something for everyone. Some highly recommended dishes include their lobster bisque, Monte Cristo and pastrami sandwich, pear and goat cheese salad with salmon, grilled mahi-mahi, and surf n' turf.
If you're in the downtown area, this is a spot you don't want to miss.
Stella's
1012 Lafayette Street,
Richmond, VA
804.358.2011
stellasrichmond.com
Stella's is a very popular place for diners who enjoy authentic, top-quality Greek cuisine. Due to the restaurant's popularity, it can get a bit too noisy during the peak hours. No worries however, as their mouthwatering dishes will surely transport you to another existence – it's that heavenly.
Everything on their menu is top-notch and served in large portions, and service is outstanding, which is why this place is quickly becoming one of Richmond's must-visit destinations. Definitely try the crab mushroom soup, Tzatziki fries, mushroom saganaki, grilled octopus, rockfish special, and lamb meatballs.