York River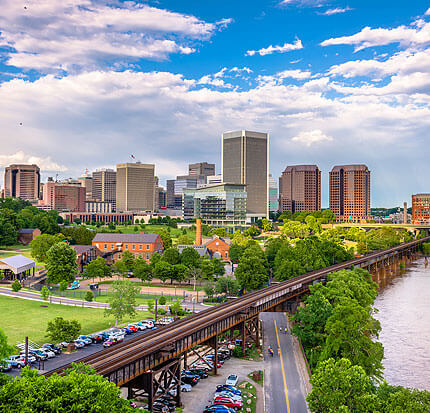 The York River is a 34-mile long estuary in eastern Virginia that flows into the southwest portion of Chesapeake Bay. It forms at the Town of West Point in King William County, at the point where the Mattaponi and Pamunkey Rivers converge.
The residential areas along the York River are lovely waterfront communities with a rich historic character. The area is home to some of the earliest and most enduring English colonies in North America, as well as the site of notable events during the Revolutionary and Civil Wars.
York River Real Estate
Find your dream riverfront home with Shaheen, Ruth, Martin, & Fonville Real Estate
If an idyllic waterfront retreat is your idea of a dream home, the agents at SRMF Real Estate will help you find the perfect property. SRMFRE's brokers are highly-knowledgeable locals who can guide you in exploring your real estate options in these York River waterfront communities:
New Kent

Featuring lavish neighborhoods with stately homes and convenient waterfront access, New Kent promises a tranquil and refreshing environment for homeowners. This census-designated place and the county seat of New Kent County is perfect for those looking to raise a family in a suburban-like community.

Yorktown

Along with Jamestown and Williamsburg, Yorktown is part of Virginia's notable Historic Triangle, the region where the first English colonies arrived, as well as where American independence was won. Yorktown is part of York County, a great place to own a luxury waterfront home, thanks to a favorable real estate tax rate of $0.795 per $100 of the assessed value.

Williamsburg

Also part of the Historic Triangle, Williamsburg is truly an area with a lot of character. While its better-known historic district is located a bit further away from the York River, the gorgeous riverside locations of the Greater Williamsburg area offer uniquely inviting residential opportunities.
Attractions along York River
York River State Park, Williamsburg

More than just the typical state park, this estuarine environment (where freshwater meets saltwater) boasts a unique ecosystem and is protected as a designated Chesapeake Bay National Estuarine Research Reserve. Visitors are welcome to explore its 25 miles of hiking, mountain biking, and equestrian trails, while boat access allows fishing and cruising along the river.

Williamsburg Charter Sales

Offering 6 different cruise experiences, Williamsburg Charter Sales showcases the various sides of the York River. Go back more than 200 years in history. See the natural wonders. Embrace tranquility with nothing but the sound the lapping waves around you. Celebrate an anniversary or pop that life-changing question. However you choose to go, you are sure to create vacation memories to last a lifetime.

Riverwalk Landing, Yorktown

Sample the freshest seafood at this waterfront community center's various eateries. Shop for local art and jewelry and visit the farmers market. Mark your calendar for annual events like the Yorktown Wine Festival and Blues, Brews & BBQ Festival. It all happens here.
With a forward-thinking entrepreneurial approach and a genuine dedication toward clients' success, the brokers of SRMF Real Estate guarantee that you will feel right at home in Virginia. Contact the best realtors in Richmond, VA at 804.288.1400 or send an email to info(at)srmfre(dotted)com to set an appointment.