Nelson County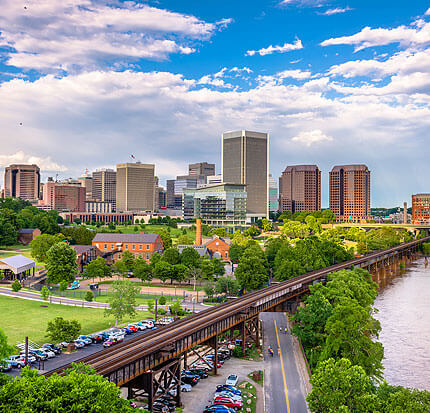 Experience the scenic beauty of the Blue Ridge Mountains here at Nelson County. Its rugged landscape and vivid colors will captivate anyone who sets foot in its dramatic terrain.
But the county has more than just natural beauty going for it – anyone who has lived in its towns and cities will attest to the strong community spirit that can be found here.
Get ready to block your calendar for festivals and community events like the James River Batteau Festival, the Rockfish Valley Foundation Kite Festival, and more. Joining these events will make you feel like you've lived in the county your whole life.
Real estate in Nelson County, VA
Nelson County is made up of the following cities and unincorporated communities:
Lovingston
Schuyler
Afton
Arrington
Faber
Gladstone
Montebello
Nellysford
Norwood
Piney River
Roseland
Shipman
Tyro
The housing market consists mostly of single-family homes and condos. Vacant land is also available.
Most homes have 3 to 4 bedrooms, enough to accommodate a growing family. Carpet flooring, cherry wood cabinets, granite countertops, and stainless steel appliances are common features.
It's also typical for condo complexes to have shared amenities like swimming pools, saunas, tennis courts, basketball courts, and clubhouses. The most coveted homes command stunning views of the mountains, as well as of putting greens in golf course communities like Devils Knob in Roseland.
If you think your next home should be in Nelson County, feel free to get in touch with Shaheen, Ruth, Martin & Fonville Real Estate at 804.288.1400 or [email protected]
Led by the top four agents in VA, SRMFRE is here to modernize the buying and selling process in Central and East VA.
Attractions and activities in and around Nelson County, VA
George Washington National Forest Named for the first US president, this forest sprawls across 1.8 million acres of public land holdings, some of which can be found in Virginia and West Virginia. The national forest offers numerous hiking, camping, picnicking, horseback riding, and fishing opportunities. Recuperate from the long work week by reconnecting with nature here at George Washington National Forest.

Rockfish Valley Loop Trail System The natural surface trails in the Rock Valley Loop span six miles and are ideal for hiking and bird watching. The trails also provide access to Reid's Creek and the Rockfish River's South Fork – let nature's beauty engulf you as you enjoy spectacular views of the water.

Rockfish Gap This wind gap in the Blue Ridge Mountains offers seasonal hawk-watching opportunities. Admire these majestic birds from one of the most scenic places in Virginia.

Humpback Rock This large greenstone outcrop is located near the peak of Humpback Mountain. It lies along the Blue Ridge Parkway and encompasses 800 miles. At an elevation of 3,080 feet, it's the perfect spot for sightseeing. It also has a historic significance, having served as a landmark for wagon trains in the 1840s.

Crabtree Falls Hikers can enjoy views of the cascading waters of Crabtree Falls from an overlook of just about 700 feet. The more adventurous ones can venture to other overlooks, such as the one at the peak of Crabtree Meadows and another one at the Appalachian Trail, which is roughly half a mile from Crabtree Meadows. The falls are made up of five large cascades and several smaller ones that plummet from a distance of 1,200 feet, making it the highest vertical drop east of the Mississippi River.

Nelson County Farmers MarketBuy fresh produce, cheese, baked goods, and coffee at the farmers market, which traditionally takes place on Saturdays from May to October. Participating vendors include Big Arms Farm and Caromont Farm.
Living in Nelson County brings you close to all these recreational opportunities.
Contact SRMFRE today
for unmatched service as you explore the local housing market.
You can also call 804.288.1400 or send an email to
[email protected]