Jodi and Randy Team
RANDY AND JODI HAUFE
A College of William & Mary graduate, and career Army Officer, Randy founded our business in 2014. The genesis for the team, however, started over 33 years earlier when Randy and Jodi met in Williamsburg, got married, and raised a family while on a 25-year long tour with the US Army.
Randy got his start in the real estate industry over 7 years ago in the highly competitive Washington DC Metro area. Known in the Army for his honesty, loyalty, teamwork, and dedication to mission accomplishment, Randy brought those same values to his Real Estate business with great success. Jodi came on board in 2019 to meet growing demand and the couple moved the business back to her hometown of Williamsburg, Virginia.
Jodi is a Williamsburg native with a extensive knowledge of the area's neighborhoods and the Tidewater community. An Army mom with 13 moves in 25 years under her belt, Jodi understands the difficulties of moving and strives to make your next move as seamless as possible. Her attention to detail and dedication to her clients are her hallmark.
Whether you are looking for houses for sale, you need to sell a home, or you just want to know the answer to the question "how much is my house worth", together, Jodi and Randy have all your real estate needs covered.
Real Estate Experience
2020 - WAAR Professional Development Committee
2015-2021 - Top Producer Every Full Year in the Business
Over 35 Million in Residential Sales
All 5 Star Reviews on Zillow, Google and Realtor.com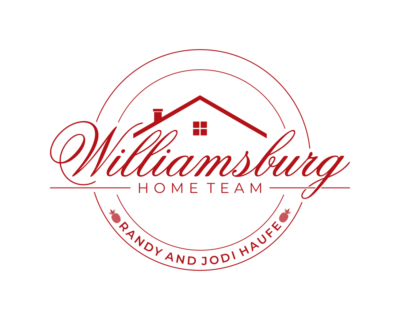 What Our Clients Say About
Jodi and Randy Team
My husband and I were beyond pleased and impressed with this team's hard work and positive attitude. Randy stayed in touch with me every step of the way and worked hard to make sure we received absolute top dollar for our home. I would highly recommend this team!
- Michelle D.
Highly Recommend!
Randy Haufe is an awesome real estate agent and even more an awesome person in general. Being military and having purchased and sold numerous properties around the country I can honestly say that Randy went over and above my past experiences of real estate professionals. He's honest, attentive, timely, and hard working. He helped us by being our eyes and ears on the ground before we moved to Virginia and continued to help us through the difficult COVID-19 affected market. Highly recommend and would unquestionably use Randy's services again!
- Happy Client
True advocates
It's hard to know where to start with our praise for Randy and Jodi Haufe and the great efforts they made on our behalf to find the right home. We never felt pressured and both often gave us their candid thoughts on the possibilities and limitations of each place we saw based on what we expressed we wanted. To say they went over and above for us seems like such an understatement. Even after we bought our home, they both continued to be of help to us. We can't imagine finding better realtors. They felt like true advocates for us through the whole process and we wouldn't hesitate to recommend them to anyone
- Tania R
Went above and beyond in his service
Randy worked with us through complicated sales process and was patient and helpful through it all. He was able to calmly deal with ups and downs, advised us on best way to invest to improve the house, and provided vendor options/ recommendations. We attained the price we hoped for in the time frame we desired; he explained and helped us through the process. He went above and beyond in his service. Without Randy, there is no doubt this would not have happened so smoothly!
- Margaret E
Best real estate agents, ever
!! Randy was able to oversee a complete renovation of my townhouse, which had been rented and was then in a deplorable state. He knew reputable and capable contractors to recommend and kept up with the ongoing repairs. His knowledge of the construction side of this renovation was invaluable. Upon selling the property, he made the process seamless. Several years ago, Randy & Jodi were the agents for the sale of my home. That sale was seamless, as well, which is why I reached out to Randy again. My advice? Choose Randy and Jodi as your real estate agents.
- Barbara H
Beyond my expectations
Randy was extremely easy to work with and very helpful in every facet of selling my house. He skillfully assessed the market and confidently recommended a selling price that was above my target and sustainable by the market. My house sold within three days and for the price I wanted. I live in another state so having someone who could judge the market where my house was located was a necessity. Taking this into account, he went beyond my expectations by taking care of details that were difficult for me to address from so far away. He also related to me as a veteran. I strongly recommend Randy Haufe.
- Teejm7
Highly recommend!!
Randy was awesome - he really went the extra mile for us! We had to sell our house while living in another state and Randy coordinated all the improvements and repairs we needed quickly and efficiently (painting, floor refinishing, electrical and plumbing). Randy had a wonderful plan to put the house on the market, and we had two offers above asking price within a few days of listing! He then coordinated with both the home inspector and appraiser to ensure they made knowledge-based, complete and accurate assessments. Finally, Randy helped us through the settlement seamlessly even as we remained across the country. Randy's professionalism, commitment and expertise are unparalleled - we highly recommend him!
- Beckymortlock
Very patient
I was a first time home buyer and Randy had been very patient to guide me through the process. For any first time or even experienced home buyer, I would highly recommend Randy as your realtor.
- rldw90
Very responsive
A chance encounter at an open house he was hosting for a colleague who had been called out of town unexpectedly lead to Randy becoming my realtor and I couldn't be happier with the results. As a first time home buyer, purchasing a house in an area I never thought I would own in, he was fantastic walking my wife and I through the entire process. Randy made sure he knew what we were looking for in a home and ensured that all those requirements were met. He was never pushy - I always felt he was representing me and my family's interests. He was very responsive - if I didn't talk to him on the phone every day, it was every other day. Very professional, very knowledgeable; Randy went out of his way to make sure we were completely satisfied with his services - he even got the seller to throw in what amounted to a new roof! I have already recommended him to a co-worker.
- Jacksonirish
Trust Implicitly
Home selling and purchasing is an extremely emotional time. I wanted to accomplish both during the winter. Randy took the time to fully understand what I was looking for, both with the sale of my home and with the purchase of a new home. Even when I was not fully aware of what I wanted to purchase, Randy took the time to understand that I was not going to obtain a good return by purchasing in the same area. He researched and found that I would get a better return by purchasing a new home in a different community, which allowed me to continue to use transit to commute to work. Randy supported me by taking the emotion I was feeling and focusing the energy on items at hand, whether regarding the sale of my home or the purchase of the new home. He understands how to stage a home and is proactive with holding the 1st Open House as soon as is possible. He understands that it is important to advertise the home not only through conventional methods, but more importantly through electronic media, including Social Media. On the purchase side, Randy was a firm advocate for me and because of his thoroughness with reading the Sales terms for the purchase of the new home, he ensured that I received the greatest return on my purchase. Not only did we accomplish the sale of my home and the purchase of my new home in 2 months, I never felt rushed and I am greatly enjoying my new home. I trust Randy implicitly and will recommend him to anyone who is interested in selling and purchasing a home.
- Lester F
Looking to buy or sell with me? Submit your information to request an email, text, or call
Why Work with Us
Our Numbers
Total Closed Transaction
Volume In 2022*

Total Closed Transaction
Units In 2022*

Ranking Out Of 576 Firms
By Total Closed Dollar
Volume**

Average Sale Price
per Transaction in 2022*
*Data from CVRMLS, WAAR & REIN 2022
**Data from CVRMLS Twelve Months ending December 31, 2022