Cathy M. Noonan
A graduate of the University of Connecticut, Cathy has been a Richmond, VA resident for 33 years, and has been successfully selling real estate in the metro-Richmond region for over 20 years. She was appointed on July 1, 2012, to serve on the Virginia Real Estate Board for a 4-year term. Additional long term volunteer work has included:
Serving on her neighborhood's homeowner association board for over 20 years with many of those years acting as President, Board of Directors member/Secretary of Our Lady of Hope Health Center 2008-2013
Richmond Association of Realtors - Chair - Legislative Committee
Virginia Association of Realtors - Public Policy Committee
Richmond Association of Realtors - RPAC trustee
State Certified Instructor for real estate post-licensing courses
Appointed by Virginia Governor George Allen as Assistant Secretary of Health and Human Resources for Virginia 1994-1998
2019 - Elected by her peers for a 3 year term as a member of the Richmond Association of Realtor's Board of Directors.
Specialties:
Resale of Single Family and Townhome/Condos
New Home Sales
55+ Downsizing/rightsizing clients
Relocating
Estates
Foreclosures
Investment Property
Short Sales
Corporate Relocation
Suburban Living
Urban Living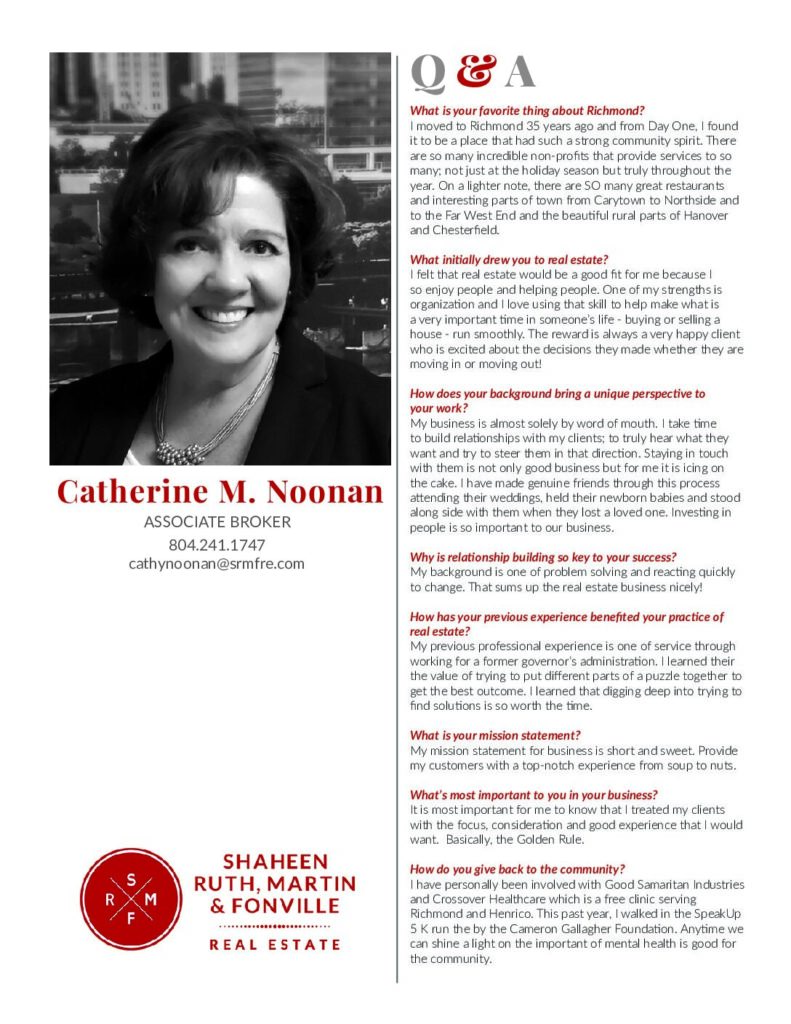 What Our Clients Say About
Cathy M. Noonan
Very Helpful
I don't typically like to ask for help, but a situation came up during and nearing the closing process where I needed Cathy's help. She did not hesitate to step in and get the problem solved
- Mary
Exceeded All Expectations
Simply Excellent. I presented Cathy with what I considered a difficult situation, selling my home while I was mostly away in another city. She didn't didn't flinch. Such a can-do attitude. Cathy is one of the most positive people I have ever met. Professional, knowledgeable, resourceful and productive. I was so impressed with the marketing; it made me want to buy the house and I owned it. But more over, Cathy took care of all the details and thank goodness. The house was closing during the busiest time of my work year. Because of Cathy I was able to attend to my business without missing a beat. I have sold four personal homes in my life and as many as 12 rental properties and without question this was the most pleasurable experience yet. And I owe it all to Cathy. If you want an agent who answers the phone 99% of the time on the first ring from early morning to night, always has a pleasant tone of voice, keeps the client informed and simply gets the job done Cathy Noonan is your agent. She receives my highest recommendation.
- Rick C.
Great Communicator
Cathy is a great communicator, down to earth, and always making us feel she has our best interests in mind. She is very skilled and knowledgeable.
- Karen
Attentive to every detail
Terrific experience with Cathy! Attentive to every detail. Anticipates all the potential issues that arise and is ready with a solution/recommendation right away. Knows the market and was able to find us the right home within 2 weeks of starting our search.
- Francis and Diane
Cathy Listens
Cathy listened to understand my goals, needs and priorities and worked to ensure we found the best home. I enjoyed working with Cathy.
- Raina V.
Lovely, Savvy, and Personable
Cathy is very knowledgeable about RVA and surrounding areas. She is lovely, personable, savvy, smart and has lots of interests. She made a stressful life decision manageable during a pandemic!
- The Howes
Smooth Transactions
If anyone is looking for a realtor in the Richmond area, I highly recommend Cathy Noonan. First of all, Cathy helped us find a home that is absolutely perfect for us. It is literally our dream home and fulfills every need (and want) that we were looking for in a home. She then gave us excellent advice on how to prepare our townhouse to put it on the market. She even advised us on the minute details that we would have honestly overlooked. She went above and beyond to help Juan and I feel confident in listing our house in the midst of a global pandemic. Within 24 hours, it had a contract! Today our home officially sold! The entire transaction went extremely smoothly, thanks to Cathy!
- H. Gutierrez
Knowledgeable and Competent
Cathy was so knowledgeable, extremely competent, thoughtful and guided me through the whole process with professionalism and calmness. I am very grateful.
- L. Ferguson
Very Professional & Knowledgeable
Cathy is very professional and has a huge knowledge of the real estate market.
- W. Johnson
Looking to buy or sell with me? Submit your information to request an email, text, or call
Why Work with Us
Our Numbers
Total Closed Transaction
Volume In 2021*

Total Closed Transaction
Units In 2021*

Ranking Out Of 619 Firms
By Total Closed Dollar
Volume**

Average Sale Price
per Transaction in 2021*
*Data from CVRMLS, WAAR & REIN 2021
**Data from CVRMLS Twelve Months ending January 2022