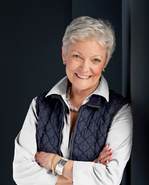 804-288-2100

757-532-7749 cell phone

[email protected]
410 Duke of Gloucester St, St 205
Williamsburg Va, 23185
Receive Email Alerts from Me
Linda Berryman, Associate Broker
Linda knows Williamsburg!
A "local" since the 1950's, she graduated from William & Mary when the town had no stoplights!
Grew up 10 miles from Williamsburg
Has Raised her family in Williamsburg
Actively works in local civic groups
Comes from a Real Estate family
AND has been selling Real Estate since 1985
All of this has given her a thorough knowledge of the area and business.
The dinner conversation is Houses... the ones for sale or the ones Linda's husband is building. Consulting with her builder husband since the early 1980's on renovation and new house projects has taught her the "nuts & bolts" of construction. This local building background is a unique qualification for helping clients make real estate selections and recognize value.
The results have put Linda's sales in the top 5% of local agents since 1990. Call or e-mail her to put this experience to work for you.