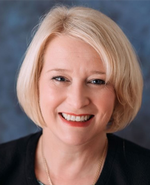 (757) 603-3001
(804) 288-2110 fax
(757) 389-1040 cell phone

[email protected]
441 W Duke of Gloucester St
Williamsburg VA, 23185
Receive Email Alerts from Me
Gaye Moth, Associate Broker with Shaheen, Ruth, Martin & Fonville Real Estate
Gaye believes that professional conduct and excellent customer service will always bring great real estate results. She works diligently to achieve the goals of her clients. She loves her work and is a great negotiator.
Gaye was born in England and served an apprenticeship with Jaguar Cars. Her career developed into project management and technical sales roles. She has worked with many of the European Car manufacturers. She has a degree in Mechanical and Production Engineering.
Gaye's husband brought her to Virginia fourteen years ago. She has quickly acclimatized to the mild winters and long summers. She lives in Williamsburg with her husband, their two young sons and rat terrier Ruby.