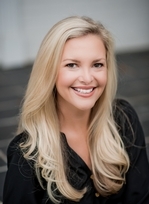 804.288.2100

757.876.4463 cell phone

[email protected]
5808 Grove Avenue
Richmond VA, 23226
Receive Email Alerts from Me
Ashley Speegle Schmitt, Realtor with Shaheen, Ruth, Martin & Fonville Real Estate
Ashley grew up in Williamsburg, VA and graduated from Virginia Tech in 2008 (Go Hokies!) with a Bachelor of Science in Resource Management. After college, Ashley lived all over the country, including Charlotte, Chicago, Nashville, and Los Angeles, where she worked in film and TV. Ultimately, Ashley decided there was no place like Richmond, and made it her forever home. Ashley's love of moving, however, has helped her to understand all of her clients needs with relocating.
Ashley resides in the West End of Richmond with her husband, Zach, and their two beautiful daughters, Lady and Tilly.
Those who know Ashley describe her as energetic, detail oriented, focused and fun to be around.
Ashley looks forward to helping clients in both Richmond and Williamsburg with all their home buying and selling needs. Ashley can be reached at (757) 876-4463 or via email at [email protected]. She looks forward to hearing from you!
Ashley Speegle Schmitt 's Listings
5
Beds
4 | 1
Baths
5,314
SqFt
5
Beds
3 | 1
Baths
3,519
SqFt
6
Beds
3 | 1
Baths
N/A
SqFt
4
Beds
3 | 1
Baths
3,260
SqFt
3
Beds
4 | 1
Baths
N/A
SqFt
4
Beds
2 | 1
Baths
2,450
SqFt
4
Beds
4
Baths
3,924
SqFt
4
Beds
2 | 1
Baths
2,708
SqFt
3
Beds
2 | 1
Baths
1,829
SqFt
5
Beds
3 | 1
Baths
N/A
SqFt
3
Beds
2
Baths
2,106
SqFt
3
Beds
2
Baths
2,106
SqFt
3
Beds
2
Baths
1,456
SqFt