Drew Harrell
Drew prides himself on offering his clients a personalized experience. He specializes in residential homes sales and particularly enjoys helping first-time home buyers and sellers. He has a strong background in property management and ministry which give him a unique set of skills that put his clients at ease through the process of buying or selling a home.
With a communications degree from Christopher Newport University he never disappoints his social media followers, who enjoy his regular home tours and market updates. Born in Richmond, Drew believes in educating his clients about his hometown and the market so they can follow their instincts to the best possible outcome. Drew and his wife reside in the far West End with their two young children.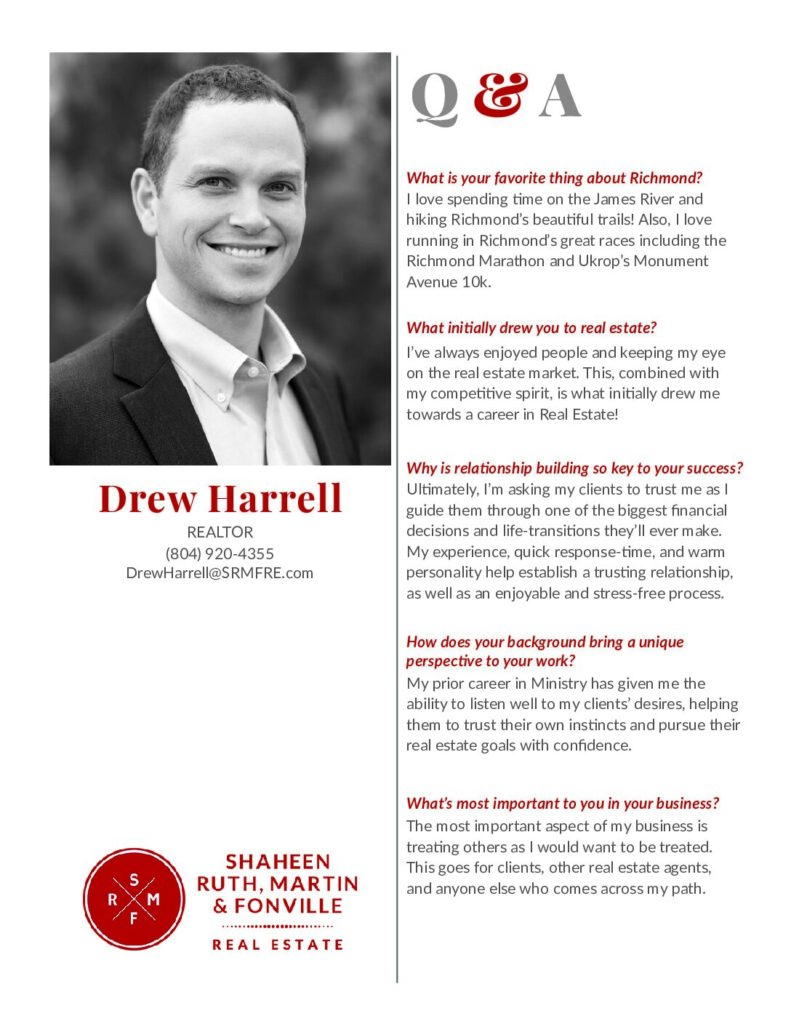 What Our Clients Say About
Drew Harrell
10 out of 10
Drew was absolutely amazing and I would recommend him to anyone! He's super fun to work with and knows his stuff. 10 out of 10! He really helped us every step of the way.
- Anthony and Amber
Fun to Work With!
My husband and I absolutely LOVED working with Drew! He helped us buy our very first home and knew exactly what to do to snag us the best deal possible in an EXTREMELY competitive market right now. Every little question or thought we had, he had the answer for. He never got tired of holding our hand and walking us, baby steps, through the whole process. Not only is he knowledgeable and helpful, he is so super personable and friendly. We never felt out of place with him, comfortable the whole time. Never that awkward, strangers moment. We felt as though this was someone we had known for a while, which made us that much more comfortable asking him all of our questions and bouncing ideas back and forth. He's also super honest about how things work, and when you need his opinion as a friend. I'm so glad our friends put us in touch with him, and I would absolutely recommend him to anyone! He'll always be our go to realtor guy from here on out. THANK YOU DREW!
- Amber Cook
Personable and Dedicated
Drew was incredibly knowledgeable, personable and dedicated throughout our long home search. We had very specific needs for our home and he went above and beyond to find us what we needed while educating us as first time home buyers.
- Happy Clients
Drew is Awesome!
Drew is awesome and we had 6 offers on our home and he negotiated wonderfully!
- The Clarks
Personable and Dedicated
Drew is very personable and dedicated!
- Genevieve E.
Great Attitude and True Talent
Drew is an extremely hard worker, with a true talent for real estate. He keeps a great attitude, and kept us well informed throughout the process. Highly recommend!
- Caleb L.
Always Responsive
Mike was always very responsive and helpful throughout the whole process. He took the time to always explain things and talk through different scenarios so that we could make the best decision. I would recommend Mike to anyone looking to buy or sell a home!
- Happy Clients
First Class service
Fauver Group Realty provides first class service from start to finish and beyond! As a seller, they ensured that my house was market ready, marketed to a wide audience, and sold quickly. Drew was even planning to hold an open house during a snow storm because he knew ONE agent who wanted to bring their client! They never made excuses and always worked with the goal of getting my home closed. This became especially important when the buyer threw some curveballs our way toward the end of the transaction. Real estate can be unpredictable at times, and when that happens you want the Fauver Group in your corner. Drew, Zach, and Lydia dug their heels in, used their wealth of experience and resources, and always stayed focused on getting my home closed. When I was stressed, they were calm and focused on solutions to get the finish line as quickly as possible. Whether you are buying or selling a home (or both), I highly recommend Fauver Group Realty. They have the experience, resources, and dedication you need during your transaction. And just as importantly, they are a fun group of people who genuinely care about their clients. In an industry where many agents care about dollar signs, I felt like they cared way more about me, and I'm very very grateful!
- crbrannan20
Exciting and pretty simple!
Drew just helped us find our very first home! Being that this was our first adventure into the housing market, he made the process exciting and pretty simple. He was incredibly knowledgable about the housing market and was able to answer so many of my questions... and there were a lot! I truly appreciate how genuine Drew was through the process. He made us feel completely cared for as we were making this big decision. I would highly recommend selecting Drew Harrell as your real estate agent whether you are looking for your very first home or your forever home!
- fitzgecr
Highly recommend
Drew helped my wife and me make a long distance (DC to Richmond) home purchase and move. He was friendly, patient, and professional from start to finish. Throughout the process he's gone out of his way to help us. When we found a house we loved and another party submitted an offer, Drew worked with our lender to get us qualified while we were at work. Prior to final walkthrough he shoveled the 10 inches of snow from the walk and driveway. And even though we've closed, he's still been willing to arrange contractors and let them in the house until we can actually get moved to the area. I highly recommend Drew.
- user0542663
Looking to buy or sell with me? Submit your information to request an email, text, or call
Why Work with Us
Our Numbers
Total Closed Transaction
Volume In 2021*

Total Closed Transaction
Units In 2021*

Ranking Out Of 619 Firms
By Total Closed Dollar
Volume**

Average Sale Price
per Transaction in 2021*
*Data from CVRMLS, WAAR & REIN 2021
**Data from CVRMLS Twelve Months ending January 2022