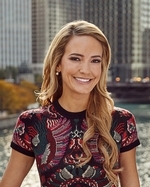 757.603.3001
804.288.2110 fax
312.863.0100 cell phone

[email protected]
441
Williamsburg Virginia, 23185
Receive Email Alerts from Me
Carrie Griggs with Shaheen, Ruth, Martin & Fonville Real Estate
Carrie Griggs has seen it all. 
Born and raised in Williamsburg, Virginia, Carrie moved to Nashville to study Marketing, Public Relations, and Commercial Music Voice at Belmont University. While her first love was music, Carrie quickly found new excitement in cooking during a paid internship. This led her to pursue a degree in Culinary Arts from Sullivan University in Louisville, after which she traveled for some time as a traveling chef. When she settled down in Chicago, Carrie quickly memorized the city's expansive grid while going door-to-door, looking for business in food distribution and supplement retail. 
Carrie's lengthy time spent in kitchens led her to another love of building them. After she met her business partner, and now, life partner, Andrew, the two founded Melrose Partners Designs, LLC. Andrew's experience in building homes for over twenty years and Carrie's love and hunger to build and design kitchens and relationships, came together in perfect harmony. Inspired by Chip and Joanna Gaines, Carrie decided it was time to pursue her real estate license so she and Andrew could work like them (on a smaller scale, Carrie jokes). 
The ins and outs of custom home building and a knowledge of interior design inspired Carrie to find her voice along with expanding her interests and capabilities in real estate. Carrie is an excellent listener, and treats each of her clients as friends. She considers herself to be a "one stop shop" for anyone who needs help in the real estate market. The "big city thinking" Carrie has gained from living in cities for over 15 years has been invaluable, allowing her to present a more polished, organized and efficient spiel. 
When not assisting clients in finding or designing their dream space, you may find Carrie walking their 3 year-old cockapoo, Kappy; taking vinyasa; or traveling and dining out with Andrew and their almost 2-year-old daughter, Poppy Sue.
Contact Carrie to begin your real estate journey today!